Our Mission
Hawks Aloft, Inc. is a non-profit, 501(c)3 organization incorporated in 1994 and based in Albuquerque, New Mexico. We work to conserve indigenous wild birds and their habitats through avian research, conservation education, and cooperation with other organizations.
Who We Are
---
Bat Flight Night

Saturday, October 24, 2015
5:30 p.m.
At the home of Ed and Mary Chappelle
26 Don Tomas
Corrales, NM 87048
$25.00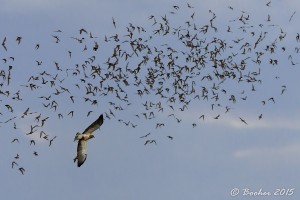 It was the best field trip ever, our journey to the Bat Caves of the Armendaris Ranch, where we watched Swainson's Hawks hunting 8 million bats at the remote Jornada del Muerto lava tubes.  Our photographers returned later in the month, for a nearly two week photo shoot.  The images are incredible!!!   We will share them with you as we celebrate the bat caves and other wonders of the Armendaris ranch, including cameos of participants!
Ticket price includes a catered dinner and non-alcoholic beverages by Mon Amis Personal Chefs.  Bring your own adult beverages!
We thank Emmitt Booher and Larry Rimer for the images used here. 
Join us as we celebrate the fall season!  Questions?  Contact Gail or call our office at 505-828-9455.
---
Transportation is always an issue when the organization is a non-profit.  We desperately need new wheels so our educators can travel safely to all the students they reach and so our field crews can reach those far away places where our studies take place.
Recently, we received a new-to-us Explorer from PNM. Thank you, PNM, for your continued support of our work!
However, we are still trying to raise funds so we can buy a minivan to use for Avian Rescues, Youth Education, and Bird Research.  Everything helps: please consider making a donation to Hawks Aloft.  Thank you!
---
Our Focus
We focus on five main areas to achieve our goals:
Conservation
Avian Research
Education
Mitigations
Raptor Rescues
We had our humble beginnings in Gail's kitchen back in February of 1994. We've come a long way from there, expanding in all aspects of our organization—from research areas to school programs and partner corporations to wildlife rehabilitators. Then, as now, Hawks Aloft could not have done it without your support. Thank you!
Our People
We employ a team of dedicated professionals that are motivated to be part of a conservation organization that makes a difference in New Mexico and the southwest. Our project managers are experts in their field and are supported by a team of qualified and experienced field assistants and administrative personnel. The team at Hawks Aloft includes:
Avian and wildlife biologists
Education specialists
GIS technicians
Wildlife Rehabilitators
Our Raffle Quilt
The Hawks Aloft quilt raffle is an annual tradition. Each year, Gail Garber–nationally known art quilter, author, lecturer and teacher–creates an original design for the Hawks Aloft quilt. Once the design is completed, it is cut and stitched by an all volunteer team at the annual winter retreat. The quilt is unveiled each year at the Monte Vista Crane Festival in March. The Hawks Aloft community works together and produces both a stunning heirloom quilt and a successful fundraiser for the organization. The proceeds from the raffle benefit the Hawks Aloft educational birds by helping to defray food costs. The winning raffle ticket will be drawn at the annual Hawks Aloft Holiday Party on December 5, 2015.
Our 2015 Raffle Quilt is complete and we are selling tickets.  The winning ticket will be drawn the first Saturday in December.  You can purchase tickets here.
Our Approach
We have a strong track record working with federal and state governments, non-government agencies, businesses, and schools within New Mexico. We work in partnership with our clients to provide a flexible and tailored service. We believe that conservation, research, and education are all important approaches to preserve New Mexico's birds and their habitats. We offer our clients avian conservation expertise combined with strong project management and educational skills to really make a difference.
Key clients include:
See the complete list of government, corporate, and foundation support here.
Our Members
In all of our efforts, whether research, education, or rescue related, we are assisted by a strong and dedicated team of members and volunteers.   Please review our website to learn more about our projects and how you can become more involved.
Trips and Tours
We offer a variety of field trips and tours, both within New Mexico and far afield.  Visit our Member Events page for more information about upcoming events.
Ask An Expert
Do you have a bird related question?  If so, check out our feature, "Hawk Talk: Ask an Expert", and our staff will try to answer it for you!
---
Subscribe to our newsletter.
Subscribe to our Blog.