Our Mission
Hawks Aloft, Inc. is a non-profit, 501(c)3 organization incorporated in 1994 and based in Albuquerque, New Mexico. We work to conserve indigenous wild birds and their habitats through avian research, conservation education, raptor rescue, and cooperation with other organizations.
---
Visit Our Education Page for Details on New "Front Yard Programs"
---
Who We Are
Have you found an injured raptor, roadrunner, raven or crow?
Call the Raptor Rescue Hotline 505-999-7740
---
Adopt-a-Raptor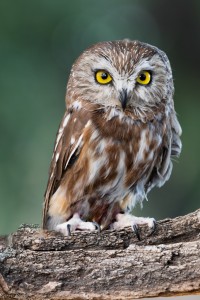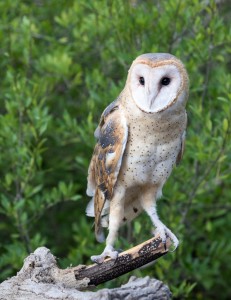 Click here to help support our non-releasable raptors through our Adopt-a-Raptor program. Hawks Aloft houses and cares for 25 permanently disabled raptors (and one corvid!). Our Avian Ambassadors travel all around the Southwest helping us to educate the public about how to help protect these beautiful animals. We provide them with top-quality housing, food, and medical care for their entire lives. It costs Hawks Aloft about $2000 a month just to keep our birds fed. By adopting a raptor, you will help us cover the cost of food, home improvements, and veterinary care for one of our disabled raptors. Prices range from $35-$100 depending on the size and needs of our different bird species.
---
Our Focus
We focus on five main areas to achieve our goals:
Conservation
Avian Research
Education
Mitigations
Raptor Rescues
We had our humble beginnings in Gail's kitchen back in February of 1994. We've come a long way since then, expanding in all aspects of our organization—from research areas to school programs and partner corporations to wildlife rehabilitation. Then, as now, Hawks Aloft could not have done it without your support. Thank you!
Our People
We employ a team of dedicated professionals that are motivated to be part of a conservation organization that makes a difference in New Mexico and the southwest. Our project managers are experts in their field and are supported by a team of qualified and experienced field assistants and administrative personnel. The team at Hawks Aloft includes:
Avian and wildlife biologists
Education specialists
GIS technicians
Wildlife Rehabilitators
---
Our Raffle Quilt 2020-2021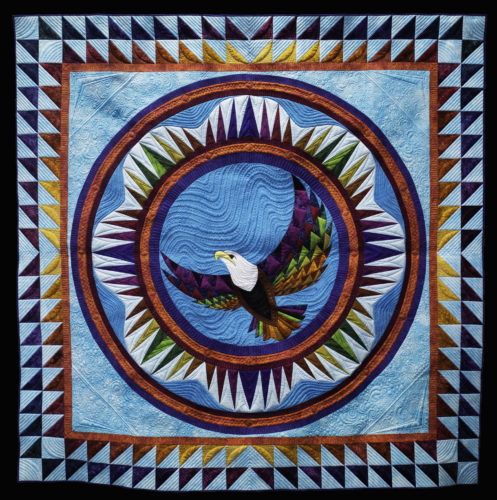 The Hawks Aloft quilt raffle is an annual tradition. Each year, Gail Garber–nationally known art quilter, author, lecturer and teacher–creates an original design for the Hawks Aloft quilt. Once the design is completed, it is cut and stitched by an all volunteer team at the annual winter retreat. The quilt is unveiled each year at the Monte Vista Crane Festival in March. The Hawks Aloft community works together and produces both a stunning heirloom quilt and a successful fundraiser for the organization. The proceeds from the raffle benefit the Hawks Aloft educational birds by helping to defray food costs. The quilt measures 90″ x 90″.  The winning raffle ticket was drawn at the annual Hawks Aloft Holiday Party in December 2021.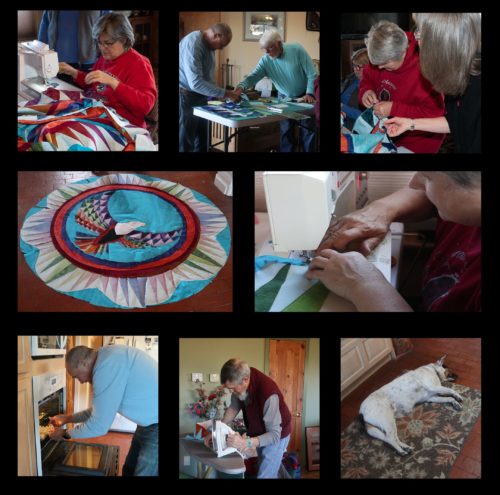 Our Raffle Quilt is complete and we are selling tickets.  The winning ticket will be drawn in December 2021.  You can purchase tickets here.
---
Our Approach
We have a strong track record working with federal and state governments, non-government agencies, businesses, and schools within New Mexico. We work in partnership with our clients to provide a flexible and tailored service. We believe that conservation, research, and education are all important approaches to preserve New Mexico's birds and their habitats. We offer our clients avian conservation expertise combined with strong project management and educational skills to really make a difference.
---
Key clients include:
Land of Enchantment Wildlife Foundation
See the complete list of government, corporate, and foundation support here.
---
Our Members
In all of our efforts, whether research, education, or rescue related, we are assisted by a strong and dedicated team of members and volunteers.   Please review our website to learn more about our projects and how you can become involved.
Trips and Tours
We offer a variety of field trips and tours, both within New Mexico and far afield.  Visit our Member Events page for more information about upcoming events.
Ask An Expert
Do you have a bird related question?  If so, check out our feature, "Hawk Talk: Ask an Expert", and our staff will try to answer it for you! Before you submit an inquiry, check out our Frequently Asked Questions page. You may find the answer to your pressing questions there most quickly!
---
Subscribe to our newsletter.
---