Each year, since our inception in 1994, Hawks Aloft has created a quilt to be raffled off.  In the beginning, it was the work of our founder and director, Gail Garber and her quilting buddies.  Over the years the project grew as more birder types involved with Hawks Aloft's birding activities joined in.  Now, our annual quilt retreat is just about the most popular member event that we host.  We retreat to Gail's cabin in the Jemez Mountains where the quilt top is stitched in ONE DAY.  Below are images of our 2016 retreat, held the second weekend in January 2016.  It is our 23rd raffle quilt!
Gail's design idea was to create a design that featured a virtual nest for the owl family.  Donna Barnitz, Barb Desher, and Gail met about 3 weeks prior to the quilt retreat to begin work on the center. That done, 14 of us  met at the Jemez Cabin on January 22 to begin work on the quilt.  Our goal was to complete the remainder of the quilt top on Saturday.  But first, a little hike was in order where we discovered Wild Turkey tracks in the abundant snow.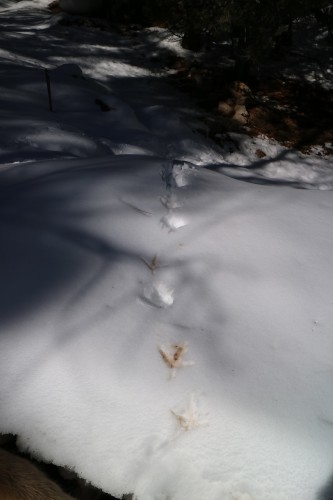 By 9:30 a.m. Ed Chappelle and Rick Desher, were hard at work, cutting all the fabrics, while Sami Sanborn organized the pieces into individual block kits for the stitchers.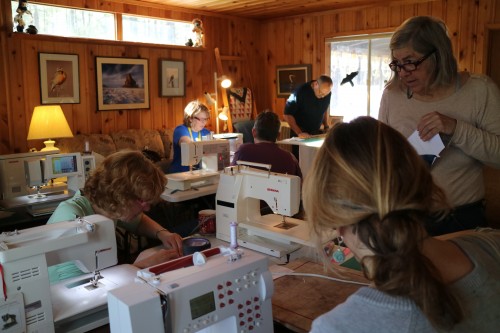 By 10 a.m. the 2016 Quilt Team was stitching the quilt top.
We celebrated in style that night!
And posed for a photo the next morning.  The Quilt Team, from R to L: Mary Chappelle, Cynthia Figueroa-McInteer, Laurie Marnell, Sami Sanborn, Pat Folsom, Gail Garber, Chellye Porter (in back), Ruth Burstrom (hiding behind the quilt), Lizzie Roberts, Steve Elkins, Rick Deshler, Allison Schacht, Ed Chappelle, and Barbara Deshler.   The three retreat dogs, from L to R:  Barry, Gabby and Laney.
Many thanks to Donna Barnitz and Barbara Deshler, who helped with the pre-sewing, and Kris Vierra, who quilted this masterpiece on her long-arm machine.
Here's our quilt for this year!  We draw the winning raffle ticket on December 3, 2016 at our annual holiday party.  Tickets are available now, at our online shop.