---
Bumper Stickers
Show your support for Hawks Aloft and avian conservation everywhere you go with one of our "I brake for Raptors" bumper stickers. Design 1 features a Great-horned Owl, and Design 2 features a Ferruginous Hawk (left) and American Kestrel (right).

*Currently out of stock

*Currently out of stock

*Currently out of stock
---
Common Birds Sticker Book
This is brilliantly colored sticker collection featuring 17 birds often found in backyards and other familiar areas. Ideal for enhancing personal messages and gift packages, these peel-and-apply stickers are also ideal for illustrating school reports and other projects.
Glitter Birds Sticker Book
Ten colorful warblers – among them the orange-breasted Baltimore Oriole and the melodious Eastern Bluebird – proudly show off their colors even more brightly with a dash of sparkle and glittler. The perfect finishing touch on greeting cards, notes, and gift packages, these lovely stickers will look beautiful wherever they're applied.
*This item is currently out of stock, please check back soon
---
Birds of Prey Tattoos
Ten exciting full-color tattoos of the peregrine falcon, red-tailed hawk, California condor, red kite, bald eagle, and five other avian predators.
---
Talking Audubon Bird Plushes
Audubon birds with real bird calls. Check out each description to find your new friend!
Bald Eagle

Eagles are a chatty bunch, making "ki ki ki" calls to each other. She would love to snuggle and chatter with you. Dimensions: 3x3x6 inches.
Peregrine Falcon

Oh no! This little guy is making the "kak kak kak" alarm call! Can you make him feel better? Dimensions: 5.5x4x4 inches.

Out of stock

Red-tailed Hawk

You can almost imagine this lovely bird soaring above you saying "kee-eeeee-arr!" Dimensions: 6x4x4 inches.
Great Horned Owl

Some people say their territorial hoots sounds like "Who's awake? Me too!" Dimensions: 3x4x6 inches.

*This item is currently out of stock, please check back soon
Snowy Owl

This brave girl is barking and whistling to protect her young. Help her protect her chicks! Dimensions: 7x4x4 inches.
California Quail

If you love the fancy headdress, then you'll love her call, "Chi-ca-go!" Dimensions: 5x5x6 inches.
Ruby Throated Hummingbird

Don't let his size fool you! He's a fierce fella, using his "chee-dit" calls to protect his flower patch. Dimensions: 5x4x3inches
Western Tanager

Beautiful Western Tanager with authentic call. This male certainly stands out with his beautiful yellow and red coloration.  Dimensions: Approximately 5 inches.
Mountain Bluebird

Listen to his sweet song of love.  He would love to sing to you all day long. Dimensions: Approximately 5 inches.
---
NEW! Wild Republic Plush Raptors
As pictured: Turkey Vulture, Snowy Owl, Barn Owl, and Great Horned Owl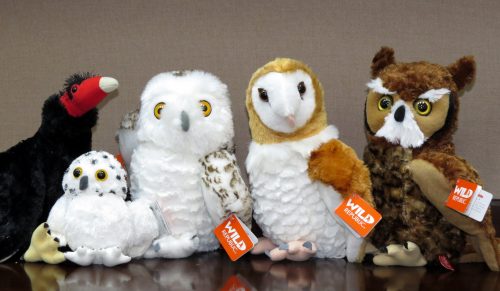 Small Snowy Owl
Price: $7
Large plush raptor
Price: $15
---
Go to: Store main page • Apparel • Books