Meet our Staff
The staff and volunteers at Hawks Aloft come from a wide variety of backgrounds. Each member of the Hawks Aloft team brings valuable knowledge, insight, and vision to the organization.
Gail Garber, Executive Director
My background for this position is non-traditional. As an artist and writer, I have written three books in another field and published numerous articles, including peer-reviewed manuscripts. Back in 1988, I met and fell in love with an educational Red-tailed Hawk. I began working as a volunteer for a local conservation organization, and it wasn't long before I became a staff member writing training manuals, grants, editing their newsletter, etc. However, it was education that was my first love, followed by field research. Today, I thoroughly enjoy all aspects of Hawks Aloft, from working in the field studying nesting raptors along the Rio Grande bosque and songbird surveys to education programs to working with our large cadre of non-releasable education birds. I have been thrilled to write not only technical papers but also articles about birds and nature for the general public.  In my other life, I am a professional quilt maker (Gail Garber Designs) and often travel to teach and lecture methods that I have developed in this media. My leisure time is often spent outdoors, searching for birds and more birds, but my dogs and I also enjoy the peace and quiet of our mountain home (and the birds). Click here to contact Gail.
---
Trevor Fetz, Lead Avian Biologist
I grew up in northeastern Oregon and received a B.A. in English from Whitman College. Upon realizing that my baseball career was not going to advance beyond college, and that I didn't want to teach English, I decided to pursue my interest in nature. I received an M.S. in Environmental Studies from Southern Oregon University, and it was during that time I discovered my obsession with birds. After completing my M.S., I spent several years working for the Oregon Cooperative Wildlife Research Unit studying Spotted Owls in southwestern Oregon and two years as the project coordinator of a MAPS station for the Medford, Oregon, district of the Bureau of Land Management. I completed my Ph.D. in Ecology and Evolutionary Biology at New Mexico State University in 2010. Click here to contact Trevor.
---
Mike Hill, GIS Specialist and Biologist
I grew up in central New Mexico and spent the majority of my childhood outside catching toads, snakes, and lizards. Upon graduation from high school I decided to pursue my love of nature in a formal setting. I graduated from Western New Mexico University in 2003 with a B.S. in Forestry/Wildlife. My summers were spent working for the US Fish and Wildlife Service throughout the southwestern US. I enrolled in graduate school at New Mexico State University and I eventually transferred to Texas A&M University to immerse myself in an active herpetology program. I radio-tracked Dunes Sagebrush Lizards (Sceloporus arenicolus) in southeastern New Mexico and operated trapping grids for a Dunes Sagebrush Lizard mark-recapture study in Chaves County, NM. I have remained active in Dunes Sagebrush Lizard conservation, management, and research since 2004. If I'm not in southeastern New Mexico performing lizard surveys, I'm at home with my wife and daughter or assisting Hawks Aloft with GIS needs. While I could be classified as a herpetologist, I prefer to think of myself as a naturalist with more knowledge about amphibians and reptiles than other groups of organisms. I have a deep respect for our natural world and I never want to lose my connection to it. Click here to contact Mike.
---
Maggie Grimason, Senior Editor and Educator
I was born in Indiana and bounced around the Midwest, Southwest, and East Coast before landing in Albuquerque, a place which I am very proud to call home. I graduated with honors from Indiana University in Bloomington, Indiana, with a degree in English with an emphasis in creative writing and have had the pleasure of applying my talents to many literary pursuits. I've nearly completed a certification in technical writing, curate a monthly book club, contribute to an online journal of nature and travel writing and work as the arts and lit editor for the Weekly Alibi.  I have had the pleasure of working in education at the elementary, high school, and college levels in both the United States and during a great adventure in the far east. In addition to my love of the written word, I also find immense joy in nature and working with wild animals. After a stint in wildlife rehabilitation off the coast of Washington, I sought to meld my two passions and have found a perfect fit in my position at Hawks Aloft. When I'm not working and writing I enjoy nightly runs along the Bosque, watercolor painting, and, of course, reading. Click here to contact Maggie.
---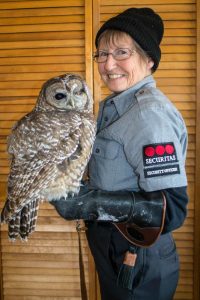 Arlette Miller, Raptor Rescue Dispatcher
Arlette comes to Hawks Aloft after spending years volunteering on research projects examining local Cooper's Hawks populations and, later, on field surveys for Hawks Aloft. A former journalist and customs broker, Arlette brings lots of thoughtfulness and attention to her interactions with callers to our 24/7 Raptor Rescue Hotline (which she staffs), as well as with the volunteers and rehabilitators she works with. When she's not coordinating rescues, Arlette enjoys making jewelry, spending time with her family, and hiking and camping throughout the Southwest. Click here to contact Arlette.
---
Susan Harrelson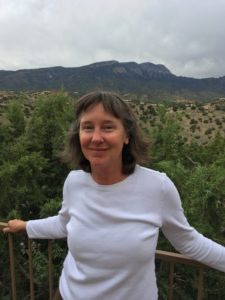 I have been doing natural resource work in the Southwest since 1984, and am happy to be able to continue this kind of work with Hawks Aloft. I earned a B.S. in Biology, and an M.S. in Forestry from Northern Arizona University. After a few years with Arizona Game and Fish Dept., I spent 31 years with the Forest Service, on the Prescott, Cibola, and Santa Fe National Forests. During this time, I was fortunate to work on a wide variety of projects including: native fish surveys, riparian surveys, fire effects monitoring, spotted owl and goshawk surveys,
pronghorn habitat improvement, vegetation classification, rare plant surveys, forest and meadow restoration, and riparian restoration. I have been a wildlife biologist, range conservationist, fisheries technician, ecologist, forester, and silviculturist. I love working in the varied habitat types of the Southwest, and want to continue to study, conserve, and protect the natural environment. Click here to contact Sue. 
---
Jill Morris, Office Manager
I grew up in Northern California and moved to Albuquerque over 25 years ago. I love it here!  I have a BA from San Francisco State University. After my son was born, I went back to school to earn an AA in accounting. I love birds and other animals, nature, and doing what I can to protect the environment. I enjoy staying organized and helping the office run smoothly. I am very excited to be here at Hawks Aloft and to take part in the important work being done! Click here to contact Jill. 
---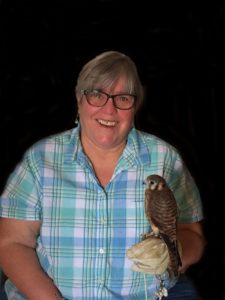 Evelyn McGarry, East Mountain Raptor Rescue Coordinator
My hero is Jane Goodall. Growing up, I watched every wildlife television show and collected newspaper articles about the plight of the world's wildlife. Unfortunately, I never completed my zoology degree. My employment history includes working as an admissions supervisor with Great America theme park, a store manager at Crown Books and Lechter's Housewares, a bookkeeper with a printing company, a file clerk with Levi Strauss, and in the last 25 years before my retirement, employed as an eligibility worker with the County of Santa Clara. My volunteering began with Santa Clara County 4-H while working full-time and raising a daughter. I continue to volunteer in my retirement with my neighborhood homeowners association, my retirement association, my local senior center community garden, and with Hawks Aloft. Currently as a volunteer with Hawks Aloft I am involved in community awareness and educational outreach, mews cleaning, raptor handling, and raptor rescue. Perhaps one day I will finish my higher education in zoology but for now it's wonderful to have a volunteer hobby devoted to beautiful birds of prey. Click here to contact Evelyn.
---
Lisa Morgan, Raptor Rescue Coordinator
My love for wildlife began when I was a young child. It seemed that practically every time I went outside to walk around the family farm with my dog, we would find another injured wild animal. Of course, I brought them home and tried to "help" them. Soon my mother talked our veterinarian in to coming to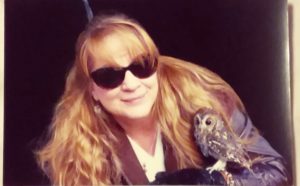 our home to guide the treatment of these animals. I was probably four years old at the time. Since then, I have worked in rehabilitating wildlife and training permanently injured birds of prey for educational purposes. Although having worked with everything from bears to hummingbirds, I learned early on that I really have an affinity for raptors. I especially feel a connection with owls. Since 1991, I have worked in various rehabilitation positions all across the country. I fell in love with New Mexico in 2006 when I accepted a rehabilitation position with The New Mexico Wildlife Center in Espanola, and have been here since. In my off-time you can usually find me playing in the dirt with my flowers, or trying to talk my Mollucan Cockatoo, Luca, off of the roof of our home in Rio Rancho. Click here to contact Lisa. 
---
Amelia Thompson, Educator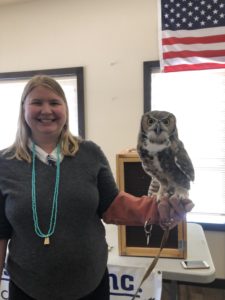 I grew up in Northern California and moved to New Mexico about a year after getting my B.S. in zoology. I immediately connected with Hawks Aloft and spent two years working here as an educator. I eventually left that position to pursue my love of reptiles, working at the ABQ Biopark and the Rattlesnake Museum, and then getting my M.S. at New Mexico Highlands University, studying Northern Leopard Frogs and Western Terrestrial Garter Snakes. As much as I enjoyed my research in herpetology, I realized that my true passion is teaching, so I am excited to return to Hawks Aloft to do education work. I actually never really left Hawks Aloft, as I have been bird sitting for the Avian Ambassadors since I started working here all those years ago! Along with taking care of the Hawks Aloft birds, my husband and I have 11 pets, which include 5 lizards, 3 birds, 2 axolotls and 1 snake–all rescues. Click here to contact Amelia. 
---
Maggie Stein, Education and Outreach Coordinator
My love for wildlife caught hold as I was growing up in North East Georgia, where I would spend my time sitting in our tree house, catching bugs and trying to befriend squirrels. I started taking riding lessons, and it was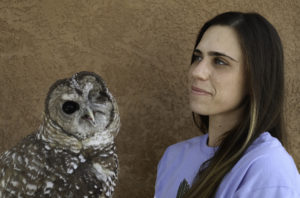 through horses and my time as a working student that I discovered my love for teaching. I went on to attend school at Texas State University, where I was a member of the equestrian team and graduated with a Geography degree focused on resource and environmental studies. Right after graduation, I worked at a children's museum in Austin, TX, as a lead educator. From there, I moved to coastal North Carolina and worked at Sound to Sea environmental program, where we taught kids about coastal environments through place-based learning. It was at this program that I had the privilege to work with raptors for the first time. After that, I moved back to Georgia to become a barn manager for White Flower Farm. When not working, I can be found going on outdoor adventures with my dog, in the barn, or melted into my couch. I am very excited to be a part of the Hawks Aloft team and to learn more about New Mexico! Click Here to Contact Maggie Stein. 
---
Bryan Dykstra, Field Technician
My interest in nature and wildlife in particular began while growing up on our family farm in Michigan with walks in the woods where I would often see deer, songbirds, and other wildlife. After high school, I enrolled in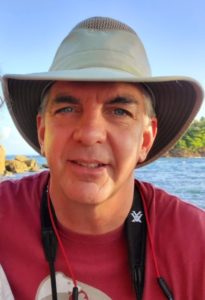 Michigan Technological University's Forestry Program and graduated with a bachelor's degree in forest management. In the early `90s, after several seasonal jobs with the U.S. Forest Service, I returned to school to study wildlife management and ecology at South Dakota State University. My graduate work entailed studying songbird community dynamics in the Black Hills in South Dakota and Wyoming. I've been a birder ever since. In 1995, I moved to Arizona to work as a wildlife biologist. During 17 years working along the Mogollon Rim, I coordinated yearly Mexican Spotted Owl and Northern Goshawk surveys and conducted riparian songbird surveys. I finished my Forest Service career in 2018 after 6 years as the Southwestern Region's Wildlife Program Leader. In that position, I was fortunate to serve as the region's avian coordinator and a steering committee member of the New Mexico Avian Conservation Partners Committee. I'm excited to "get back to the woods" to work on owl and songbird surveys for Hawks Aloft. 
---
David Buckley, Surveyor
I grew up in the wilds of the New Jersey shore, exploring the beaches, rivers, ponds and woods of the area (which is to say, the real Jersey Shore).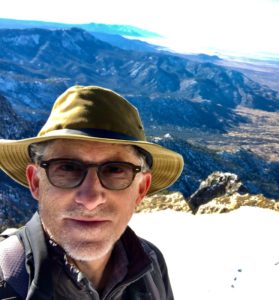 My love for birds and nature started there and I have pursued it ever since. In the 1980's I settled in the Pacific Northwest, where birding became a central pursuit/obsession. I am a graduate of the Seattle Audubon Master Birder program and was a board member of the Washington Ornithological Society. Since moving to New Mexico in the late 1990's, I've had the good fortune to be involved with Hawks Aloft in a number of ways, including housing and handling various raptors, writing and editing, and conducting breeding bird surveys. I look forward to getting out in the field each time and am grateful to be assisting in the collection of data to monitor birds in the Middle Rio Grande Valley.