The following programs developed by Hawks Aloft are designed for school children of all ages.  Each program features at least one to two live raptors and can be modified to fit into your curriculum. All of our single visit programs are available year-round and are typically at reduced cost for Title 1 schools.  All programs should be scheduled at least three weeks in advance with a maximum capacity of 50 persons for the safety of the birds.
Our multi-visit program is available to Title 1 elementary schools by application only. We are no longer accepting applications for the 2018-2019 school year. Applications for the 2019-2020 school year will be accepted starting in Spring 2019.
Click here to schedule a program today!
For questions about programs, contact us at 505-828-9455 or education@hawksaloft.org.
Jump to:
---
Reading with Raptors: Grades Pre-K – 1 (Single Visit)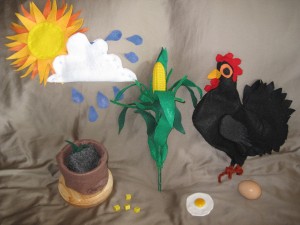 The Reading with Raptors is a single-visit program designed for children from preschool through first grade. Reading with Raptors programs are conducted in the Albuquerque area and other regions of the state as requested. This program typically lasts 30 minutes to 1 hour and is focused on the basic adaptations of raptors to their environment. The program includes an educational story (often Owl Babies by Martin Waddell), interactive puppets, touching a feather, and building a raptor activity.  One or two live raptors are presented and used to illustrate basic raptor facts. In addition to the program itself, there are pre and post lesson suggestions provided once a program is booked.
Books Available include:
Owl Babies by Martin Waddell
City Hawk: The Story of Pale Male by Meghan McCarthy
Edward the Emu by Sheena Knowles
Edwina the Emu by Sheena Knowles
Back to Top
---
Birds of Prey: Grades 2 – 12 (Single Visit)
Hawks Aloft educators travel to schools throughout New Mexico with age-specific, single-visit programs for students. These programs, which last from 60-90 minutes, offer content designed to fit teacher and curriculum needs and provide experiential, hands-on learning. Students interact with two live, non-releasable raptors at each program in addition to other fun interactive games and activities. Teachers receive advance information and pre/post-lesson suggestions to further enhance their students' experience. Teachers are also encouraged to integrate one of our free online lessons into the classroom either before or after our visit.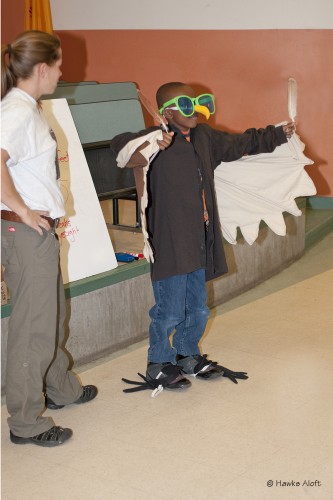 Available Topics for Birds of Prey program
Select from the following topics, or suggest a topic and we will develop a custom lesson for your classroom!
Raptor Biology and Adaptations
Migration
Watershed Conservation
Fire Ecology
Food Webs
All About Owls
Habitat Fragmentation
---
Living with the Landscape: Grades K – 5 (Multiple Visits)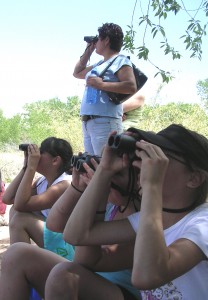 In 2000, Hawks Aloft began offering grant-funded, multi-visit programs within New Mexico to title one schools.
Living with the Landscape is designed to teach students about New Mexico ecology and empower them to make a difference. This program provides students with age-appropriate lessons and activities relating to birds of prey and wildlife conservation and is aligned with New Mexico Science Content Standards.
For participating schools, every classroom in the school will be visited at least once by one of our educators and a minimum of two live raptors; older students also will participate in field trips and conservation projects. The breakdown of visits is as follows:
Grade PreK – 3:  Two classroom presentations with live raptors and hands-on activities that illustrate concepts such as adaptation, conservation, endangered species, food chains, habitat, migration, and basic bird biology/anatomy.
Grade 4:  Three classroom visits and one field trip.  Each classroom visit will feature different species of live raptors to illustrate concepts such as adaptation, conservation, endangered species, food chains, habitat, migration, watersheds, and basic bird biology/anatomy. The field trips will focus on New Mexico wildlife and ecology, and demonstrate scientific concepts in a local context. The final classroom visit is a review of all the concepts learned throughout the program.
Grade 5:  The full Living with the Landscape program with three classroom visits (see grade 4 above), one field trip, and a conservation project that empowers students through action to make a difference in their community.
All students and families:  A family night, featuring live raptors, in which students show their parents and siblings what they have learned throughout the program.
Conservation Project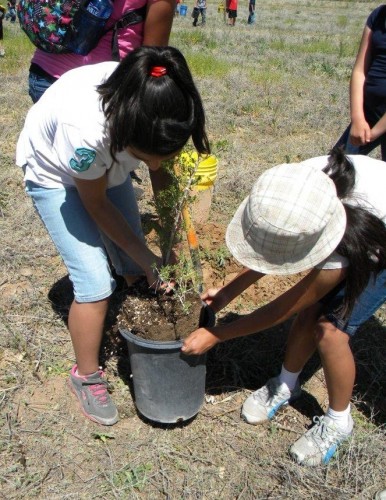 Fifth grade students will participate in conservation projects to empower them to make a difference in their school and community.
Past projects have included:

Habitat creation and/or restoration
Planting native vegetation
Removal of invasive-exotic plants
Anti-littering or water conservation campaigns within the school
Topics covered in Living with the Landscape programs
Food Chains
Habitat Loss
Basic Bird Biology
Adaptation
Migration
Pollution and Human Impact
Predator/Prey Interactions
Fire Ecology
---
Program Fees