Apply for 2021 Virtual Education Programs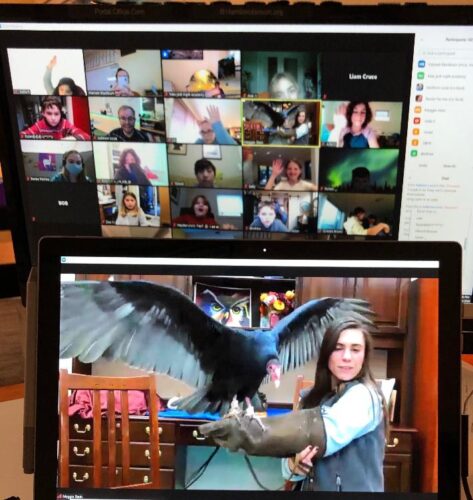 Generously funded by PNM Foundation and the McCaughin Mountain Foundation for Empowerment, Hawks Aloft is proud to present virtual education programming in 2021 for New Mexico schools.
In our education programs, Hawks Aloft staff, along with permanently injured, non-releasable birds of prey, teach key conservation topics at any grade level.
These programs are offered completely free of charge, though priority will be given to Title 1 schools in the Albuquerque area.
Interested in applying? Contact Education Coordinator Maggie Stein at education[at]hawksaloft.org for your application.
Please return your application by January 31, 2021 for consideration for Spring slots.
---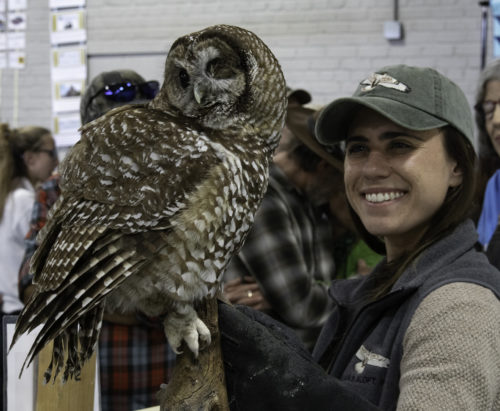 Hawks Aloft offers innovative education programs to meet the needs and interests of a variety of audiences. All Hawks Aloft education programs involve live raptors to enhance the learning experience. Specific programs have been developed for:
Students
Special interest groups
Corporations
Hawks Aloft educators have been delivering quality programs to students across New Mexico for over ten years. Through our youth programs, adult educational programs, and community outreach activities Hawks Aloft reaches over 41,000 people of all ages every year.
Visit our For Educators section for free online lessons and more!
---
Our interactive programs feature live, non-releasable raptors who bring to life a range of educational topics. Programs provide close-up views of some of New Mexico's most spectacular owls, hawks, and falcons. Education raptors have an uncanny ability to provide a memorable educational experience and to inspire people of all ages -from school-children to electrical company linemen – to make positive environmental choices. We see the sense of wonder as our avian ambassadors highlight the critical importance of environmental conservation.
Read more about our educational ambassadors.
---
Bring Education Home with Front Yard Programs!
The COVID-19 pandemic has impacted education in many ways, and we've been quick to adapt to make sure conservation education is accessible to New Mexicans throughout this time.
Meeting CDC guidelines, we are introducing "Front Yard Programs." These are private programs for small groups (no more than 10 people, please) that bring our educators, Maggie and Amelia, and three Avian Ambassadors, to your home for a 30 minute program.
Programs will meet all social distancing protocols, and will be adapted when possible to criteria discussed prior to the event. These short programs are just $75 within the Albuquerque area!
Want more information? Email Maggie Stein at education[at]hawksaloft.org.
---
Our Programs

Hawks Aloft youth programs work to deliver engaging life science and conservation education to K-12 students throughout New Mexico and surrounding communities. During the school year, our schedule fills up rapidly, and we recommend scheduling as early as possible. Single visit programs should be scheduled at least three weeks in advance.
Birds of Prey Program: a flexible 1-1.5 hour single-visit hands-on program tailored to the needs of each classroom.
Reading with Raptors: single-visit program for preschool through first grade students features a live raptor, games and interactive book reading with hand puppets.
Living with the Landscape Program: a grant-funded program for K-5 grade classrooms includes multiple classroom visits, a field trip, and a hands-on conservation project.
Read more about our Youth Programs.
---
By conducting education programs and public outreach, Hawks Aloft is working to improve quality of life in New Mexico by better informing the public and conserving New Mexico's unique natural heritage.
Citizen Science: HOOT Project: Hawk and Owl Observation Tracking
Adult education programs: programs on a wide range of topics by expert speakers for adult or mixed groups featuring live raptors
Corporate programs: such as Compliance with Federal Laws and Avian Biology, Conservation, and Your Company
Read more about our Adult Programs.
---
Community outreach activities improve the public's appreciation for birds of prey, wildlife, and awareness of environmental issues within the community. Such programs encourage people to make positive environmental choices and conserve New Mexico's unique natural heritage.
Participation in Community Events: Educational booths featuring live raptors and educational materials. Tailored to specific event requirements and featuring a minimum of two live raptors at each event.
Outreach for Company Events: Educational programs for staff and their families, Outreach booths for corporate events.
Group Presentations: Seminars and slide shows offer tailored education for special interest groups such as Boy Scouts, retirement communities, and conservation or civic organizations.
Read more about Community Outreach programs.
---
Interested in Finding Out More?
If you are interested in any of the programs described here contact us through the Community Outreach page; if you have questions about the presentations, please contact us education@hawksaloft.org or (505) 828-9455.