February 21st, 2020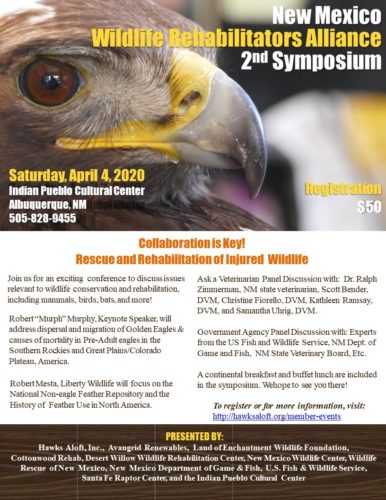 The second New Mexico Wildlife Rehabilitators Association Symposium is coming up! In anticipation of this capacity-building and deeply collaborative event, we'd like to introduce two key participants.
Robert Mesta, Coordinator, Liberty Wildlife Non-Eagle Feather Repository Program
and
David Mikesic, Director, Navajo Nation Zoological Park

Robert Mesta is a retired U.S. Fish and Wildlife Service ornithologist. He spent his professional career working to protect, conserve, and recover threatened and endangered North American bird populations. His area of expertise is the recovery of endangered birds of prey. He directed national and international-level programs to recover the California Condor, Bald Eagle, Peregrine Falcon, and the Masked Bobwhite Quail. From 1999 to 2015 he coordinated the Sonoran Joint Venture, a bi-national bird conservation program between the United States and Mexico. Currently, Robert coordinates the Liberty Wildlife Non-Eagle Feather Repository Program, at this time the only program in the United States permitted by the U.S. Fish and Wildlife Service to accept, hold, and distribute non-eagle feathers to Native Americans for religious and ceremonial purposes.

David Mikesic , originally from Pennsylvania, began his career with the Navajo NationDepartment of Fish and Wildlife in 1994 as an endangered species field zoologist. Some of his favorite work was co-leading a 10-year Golden Eagle study and Ferruginous Hawk population monitoring across the Navajo Nation. In 2010, he switched positions within the department to manage the Navajo Zoo in Window Rock AZ and has been fortunate with many successes in modernizing the facility with his awesome staff. One major accomplishments was the construction and operation of The Navajo Nation Eagle Sanctuary that now houses 17 non-releasable Golden Eagles.
Together, David and Robert will enlighten the audience about the history of feather use in the U.S. and the role of their respective organizations in efforts to reduce poaching.

Breakfast and lunch will be provided. Registration is $50. Complete details will be provided upon receipt of registration.
Click Here to Reserve your spot now!