January 30th, 2019
As always, this year's design was developed by world renowned quilter, and our executive director, Gail Garber. This particular piece was inspired by the many feathers collected during the summer months as our Avian Ambassadors molt. Incorporated into the design are the beautiful patterns of Swainson's, Rough-legged, and Red-tailed Hawk feathers.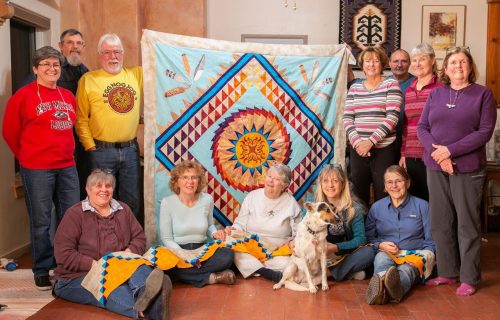 Of course, this quilt isn't made in a vacuum—it is, in fact, an extremely collaborative effort. Usually, a group of 12 or so convene at Gail's cabin in the Jemez Mountains. This year, however, it wasn't meant to be, with large amounts of snow accumulating in the mountains. Instead, our intrepid quilters retired to the home of longtime friends of Hawks Aloft, Ed and Mary Chappelle in Corrales. There, a team gathered in the dining area and worked over the course of two days to put the quilt together—though from design to finalization takes much longer.
In addition to Ed and Mary Chappelle, other quilters came together, including: Ed and Barb Deshler, Carol Meincke, Cynthia Figueroa-McInteer, Sami Sanborn, Stevel Elkins, Evelyn McGarry, Lizzie Roberts, Allison Schacht, and Donna Barnitz. The quilt then went on to Tisha Cavanaugh to be completed.
The quilt makes its live premiere every year at the Monte Vista Festival of the Cranes in Colorado, happening this year March 8-10. We sell raffle tickets for the quilt all year long, and put every dollar earned toward care for our Avian Ambassadors, education programs, research efforts, and rescue and rehabilitation.
Take a look at some of the quilts made in past years here, and get your tickets here. Keep your fingers crossed until December, when we will draw a winner at our annual holiday party!