October 12th, 2018
The tables were all set, pictures were hung, food was simmering, aprons were strung near the picture windows, and Hawks Aloft staff and a few key members of our team of Avian Ambassadors anxiously awaited the first guests to walk through the doors of the Anderson-Abruzzo International Balloon Museum to kick off our Falcon Fiesta.
The Falcon Fiesta, which was held on Saturday, Sept. 15, was the second major event designed to raise money for our capital campaign–to break ground on the New Mexico Center for Birds of Prey. This center will house our Avian Ambassadors, provide a permanent site of rehabilitation for birds in need who come to Hawks Aloft through our Raptor Rescue Hotline, and a vital center for conservation education that will be, of course, open to the public. The center will be the first of its kind in New Mexico.
Months of planning came together for an evening of fun and celebration. The Cooperage provided a buffet of fine foods, while numerous local business, creatives, and makers contributed to several tables of silent auction items. A handful of businesses generously enlisted as sponsors and a host of pros donated experiential birding trips, photography sessions, and one-of-a-kind pieces to our live auction, expertly run by our emcee, Dennis Chamberlain. Cake was served, the New Mexico Falconry Association brought their trained birds, and a caricaturist sketched pieces for attendees so they could always remember the night.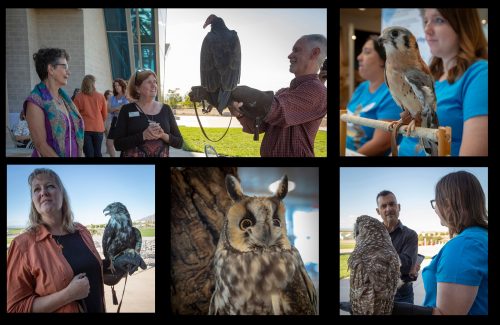 The Falcon Fiesta wound down around 9pm, and tired staff and volunteers collapsed tables, loaded our cars, and headed home after seeing the success of an event that was in the works for many months.
Everything we do at Hawks Aloft is a collaborative effort. We rely on our relationships with our dedicated volunteers, the mutual support between our nonprofit and local businesses, schools, and other organizations, as well as the investment of people who care about wild birds and their habitats.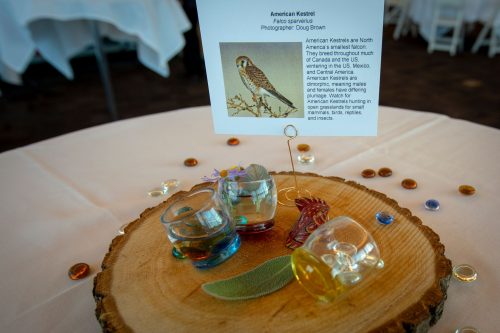 Thanks to all who helped make this event such a success–and keep an eye out for our next gala event to support the New Mexico Center for Birds of Prey!