April 8th, 2018
Imagine: As dawn began its faint ascent on the eastern horizon, the young Bald Eagle roused atop a power pole, yanking one leg and foot back up into the warmth of his breast feathers on this chilly morning.  Soon, the prairie dogs that called the Navajo Agricultural Products (NAPI) fields would awake and the hungry eagle might find a meal. Suddenly, a loud pop reverberated and the eagle felt a blinding flash of pain in his left wing, falling to the ground in agony. As he lay there, not understanding the searing pain, two men hurried toward him. One held him down forcefully, and the other began pulling out his tail feathers one by one. Once finished, they left him there to die a slow death, no longer able to fly.
Fact:  March 16, 2018. This eagle, found by an unknown person, was driven to the Navajo Nation Zoological Park (NNZP), in what would become the first raptor rescue call that day. David Mikesic, Director, called to ask for transport help to get the eagle here. Larry and Kim Rimer drove the 3-1/2 hours to Window Rock to pick up the injured eagle, returning him to my home, where we transferred his travel crate to my car for the drive to Santa Fe. His next trip was to Santa Fe to meet Ty Horak and Nirankar Ambriz, who drove him to his final destination: Cottonwood Rehab in Espanola. There, Kathleen Ramsay, DVM provided critical triage, and examined his fractured elbow. Surgery followed the next day and it appeared to be successful. However, the unknown length of time the eagle lay on the roadside, had caused a massive infection that later took his life.
Imagine: A few days later, a Golden Eagle waited for dawn, hoping for an easy meal of prairie dog at the massive colony adjacent to NAPI. BOOM!
Fact: March 21, 2018. Another phone call from the NNZP, another shot eagle with tail feathers pulled. NNZP drove the bird to Albuquerque, where Arlette Miller, raptor rescue dispatcher, then drove the eagle to Espanola. Emergency surgery, again by Kathleen Ramsay, revealed the wingtip was already dead and would have to be removed. This adult Golden Eagle would have to spend the rest of his life in captivity, no longer able to fly. However; without his hunting prowess to feed his mate and nestlings, his 2018 nest certainly failed as his eggs/hatchlings would not be old enough to be left alone so the female could hunt. He is thriving under captive care and will eventually be returned to the NNZP, where his nightmare can be shared with their visitors.
Imagine: A shot rang out at NAPI, pre-dawn, and the big female Golden Eagle fell from her power pole perch. Pain seared through her wing, while two men held her down and yanked out her tail feathers. Then, she was alone, in agony, unable to fly, and waiting to die.
Fact: March 30, 2018. Shot on NAPI fields, a NAPI staff member found the eagle. Chad Smith picked the bird up and drove it to NNZP arriving at 10 pm, where he and David Mikesic administered triage. Chad then drove her to Albuquerque, on March 31, 2018 and transferred her to Arlette Miller who took her to Petroglyph Animal Hospital where Dr. Kariana Atkinson performed triage and took X-rays.
April 2, 2018. Dr. Kari and her colleagues, Dr. Ray Hudgell and Dr. Mike Melloy, performed surgery to repair the humerus bone, inserting many pins and an external fixator device that will hold everything in place while the bone heals. There is optimism that she might be releasable, but it will be months before releasability can be determined and for her tail feathers to regrow if the feather follicles have not been damaged.
Both the US Fish and Wildlife and the Navajo Department of Game and Fish are investigating and rewards are offered for information leading to the arrest of the perpetrator.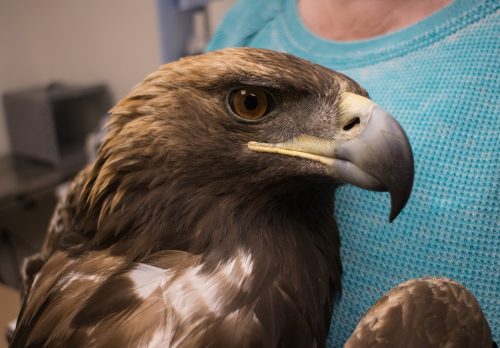 It is taking a statewide and national community to help these birds and to search for the criminals who committed these barbaric acts. Thank you to:
Kariana Atkinson, DVM
Nirankar Ambriz
Eldon Brown, FWS
Cottonwood Rehab
The Daily Courier
Farmington Daily Times
The Grant County Beat
KANW Radio – Albuquerque
KOAT TV – Albuquerque
KOB TV – Albuquerque
KRQE TV — Albuquerque
Ty Horak
Katrina Hucks
Ray Hudgell, DVM
Mike Melloy, DVM
David Mikesic
Arlette Miller
Lori Paras
National Public Radio
Navajo Agricultural Products, Inc.
Navajo Department of Game and Fish
Navajo Times
Petroglyph Animal Hospital
Kathleen Ramsay, DVM
Larry and Kim Rimer
Las Cruces Sun News
Santa Fe Raptor Center
Chad Smith
Katie Wade, FWS
USA Today
US News
US Fish and Wildlife Service, Law Enforcement
The 200,000+ individuals that commented, shared, or viewed the story on Facebook and Instagram