May 17th, 2017
What does decolonization mean? And, how can one even begin to address the process of decolonizing something as big and full of meaning as nature? These are heady topics, and a recent conference in Albuquerque sought to address them in a multitude of ways. I was lucky enough to write an article for the Weekly Alibi about the recent Decolonizing Nature conference, hosted by UNM at the National Hispanic Cultural Center, and in turn, attend some sessions on behalf of Hawks Aloft.
The conference, which was held between April 18 and 22, included an array of sessions that broached such topics as "Species, Place, Politics," "Building Bridges—Art, Community, Humanities," "Sustainable Communities," "In the Borderlands," and "Water is Life," among many others. In addition, an art exhibition opened in conjunction with the conference at 516 ARTS and the UNM Museum of Art hosted a small film festival. Through this variety of mediums and topics, the organizers of the conference, led by Subhankar Banerjee, hoped to free minds when it comes to considering our planet and its fate, and to engage the community in a dialogue on its own broad-based health and happiness.
In this process of shaking off prescribed notions of ways of being and interacting with the natural and constructed world, many vital and inspiring conversations took place. Each panel discussion allowed for brief lectures by a carefully chosen group of individuals and left ample time for questions and comments from the community. Jeanette Hart-Mann, who I interviewed about the conference, pointed out that the presenters were carefully chosen because they are individuals who aren't just "writing glorious papers" for other academics but are actually doing the work that they think is meaningful in their field.
Sitting in on "Species, Place, Politics" panel discussion was interesting, particularly because speakers were selected from a vast number of fields. What many might find surprising is that there were a large number of artists participating in the conference, always game to speak on how art can provide another language to discuss complex, nuanced topics. On this particular panel was local dancer and choreographer Lisa Nevada, and Silver City-based photographer (and former field biologist) Michael Berman, as well as UNM PhD candidate and biologist Carlos Carrion. Nevada talked about her site-specific art, Golden Migration, performed at Valle de Oro National Wildlife Refuge; Berman presented photography from the border as a vehicle for discussion; and Carrion, a native of Ecuador, talked about Yasuni National Park in his home country, and its fraught future due to Ecuador's economic reliance on oil.
Each presenter addressed the topic in subtle, nuanced ways, suggesting there are infinite ways to tackle such pressing issues, using your own very specific and personal talents. As Hart-Mann mentioned when I interviewed her, the root of our ecological problems is that we view ourselves and our world as fundamentally different; that we as humans are set apart from the natural world. If we are separate from nature, then exploiting it isn't so problematic. The aim of the conference, in part, was to realize that we are a part of this Earth, and what we do it, we do to ourselves. We are not "Earthmasters" as the Decolonizing Nature program described, but Earthlings, a single part of the biological web much bigger than ourselves.
---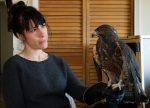 Maggie Grimason is senior editor and an educator at Hawks Aloft.