December 14th, 2016
The Christmas Bird Count (also abbreviated as CBC) is the longest running citizen science project in the United States. Sponsored by the National Audubon Society, the count is performed annually near the end of December. Many bird experts and aficionados, as well as those of us who simply find ourselves dumbfounded and staring upwards quite regularly, commit to the count each year—but who started it? And why?
The first Christmas Bird Count took place in 1900. It was born in response to a burgeoning environmental movement, but also as a reaction to a noticeably dwindling number of birds. This population decline may have been related to a strong tradition of bird hunting for both sport and sustenance. In fact, prior to 1900, there had been a long-running tradition of going on a bird hunt every Christmas day. (This was known as a "Side Hunt" for some obscure reason.) Frank Chapman, an official at the American Museum of Natural History and an early member of the Audubon Society dreamed that instead of using all that man power for something destructive, like hunting, why not arm people with binoculars and do something productive, like a bird count?
Chapman worked hard to advocate for the Christmas Bird Count and, that year, 27 birders headed out into the field on Christmas morning. From that first bird count, the tradition has held strong, and today, a huge database of information exists from the annual Christmas Bird Counts. Participants from all over the world have joined in, and now these population gauges guide important conservation decisions and research, contributing to the protection of both birds and their habitat in a huge array of regions.
In Albuquerque, there are many established ways to get involved with the bird count.  For example, Valle de Oro National Wildlife Refuge will be holding one on December 17 from 7am-4pm. More information on that here.  The Albuquerque Count will take place on December 18.  You can also find details on how to participate independently, or look for more groups in your area on the National Audubon Society's Christmas Bird Count webpage.
---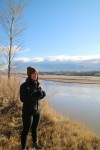 Maggie Grimason is a writer and educator at Hawks Aloft.