November 23rd, 2016
I remember the first Sandhill Crane I ever saw vividly—it was the first winter I lived in New Mexico, nearly six years ago now—near the Rio Grande on south Fourth Street. It was an amazing sight, and continues to be. Second in size only to the Whooping Crane, how could anxious watchers ever cease to be impressed these large, graceful birds? Their gurgling call and shadows cast over the wintry high desert is a sure indication of the changing seasons; without fail, they return year in and year out to New Mexico. Though these large, red-capped bird dependably herald the changing seasons, there is still much to learn about their migration patterns, especially in the face of a warming planet.
In New Mexico, the Rocky Mountain Sandhill Crane population's migration habits are being closely studied by students and researchers at New Mexico State University. As the birds respond to changes in climate that have created water scarcity and loss of wetlands (meaning less habitat) they have taken to traveling back and forth between several wintering areas in New Mexico, in order to find more opportunities for foraging. This is just one observable difference in the behavior of cranes responding to a changing world, and a clear indication of the importance of this kind of research, which reveals essential details about survival rates.
With a range that encompasses distant places like Alaska all the way up to Siberia, these stately birds make their way south each autumn to winter in places like New Mexico, even as far south as the state of Durango in Mexico. Winter flocks usually consist of several nuclear families; Sandhill Cranes mate for life, so these may be comprised of parents, their young, and maybe even "grandchildren." Typically these loose groups will overnight in shallow waters, and during the day forage for a variety of insects, snails, plants and amphibians.
A particularly good place to stand in awe of these impressive birds—one of the most ancient species on Earth—is, of course, at Bosque del Apache. Even if you missed out on the Festival of the Cranes, don't worry, there are still plenty of months to see Sandhill Cranes; they likely won't start their departure until March. If you have your heart set on a festival, you can put the Monte Vista Crane Festival in the San Luis Valley of Colorado in your planner for March of 2017. Hawks Aloft will be there! Otherwise, just head out your front door to the Rio Grande bosque and look up, you're likely to glimpse them near water and hear their trumpeting calls, too.
---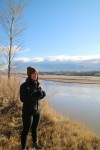 Maggie Grimason is a writer and educator at Hawks Aloft