October 19th, 2016
"After hearing a female Flammulated Owl on Oso Ridge in 1996 while conducting a Spotted Owl survey, I returned to look for nest sites and found three Flammulated Owl nests in the first three cavities I checked!" David Arsenault explained of one of his first encounters with the small raptor. After that, he was hooked. For eleven years in a row he banded hundreds of Flammulated Owls each season on Oso Ridge, learning about their movements and territoriality. David has transferred his interest in the petite owl to his work for the Plumas Audubon Society in Northern California, where he employs a variety of strategies to learn about the secret life of the species.
The Flammulated Owl is the second smallest owl in North America, after the Elf Owl. These dark-eyed raptors breed in montane forests in western North America before traveling to Mexico to winter. Secretive and quiet, especially when a human is detected in the area, Flammulated Owls were once thought to be rare. Improved research strategies, however, have indicated they are common, though populations are declining overall.
Since that fateful encounter 20 years ago, David has sought to study the migration patterns of these neotropical migrants with geolocators, genetics, and mark-recapture, as well as resolve questions around mate fidelity, nest site selection and distribution, the impact and use of nest boxes, and the varied effects of forest thinning on Flammulated Owl populations.
David spent a considerable amount of time in New Mexico, studying Flammulated Owls and other bird species for Hawks Aloft. Despite the fact that most of his work is in California these days, it recently took him to the Zuni Mountains in northwestern New Mexico, and he invited Hawks Aloft volunteer and photographer-extraordinaire, Larry Rimer to tag along and encounter this rarely photographed bird. "Other than the almost impassable dirt roads (even [when] dry) and the countless bug bites, it was fantastic," Larry said about his experience, expounding on the mixed forests and the solitude of these rarely visited mountains.
From 9 a.m. to 5 p.m. every day, the research group—which included university students, as well—checked known cavities and nest boxes, while searching for other possible nesting sites. The group averaged about ten miles on foot daily. Just before nightfall, the group would head out again, setting up mist nets to capture the owls and gather data—their weight, wing size, sex, etc.—before banding and re-releasing them.
The trip was a success. "Usually in California, they manage to capture three birds in three weeks," Larry said. "Here we managed to capture 15 owls in 4 days." This bodes well for David's research. "I was concerned that more cavities were being lost to fallen trees and branches each year than were being created by Woodpeckers, so I put up … nest boxes," David explained. Noting the success of the nest boxes he put up in New Mexico, he continued the project in California, where many were taken over by flying squirrels, but are utilized by Flammulated Owls as well.
In addition to the measureable success of the nest boxes, David's research has also illuminated the migratory habits of these secretive birds—one of the geolocators fixed to an owl in northern California tracked the bird as far south as Jalisco, Mexico. The research that David is spearheading on the Flammulated Owl isn't just providing new insights into how they live, but providing rewarding experiences for those who work with the birds, as Larry said, "This was a once in a lifetime learning experience. [I] feel so very lucky to have been allowed to be a part of it."
---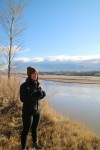 Maggie Grimason is a writer and educator at Hawks Aloft