June 19th, 2013
What a week for wildlife rescue!  We rescued 5 birds last week. I think we set a record for us, and none of the birds were close to our home in Albuquerque.
On Monday, it was a Common Raven that had to be captured and rescued in Edgewood, NM.
On Tuesday, it was an American White Pelican and a Great Horned Owl in Carlsbad.
On Wednesday, it was a Prairie Falcon from Engle, NM (near Truth or Consequences).
And, on Friday, it was an American Kestrel from Alamogordo, NM.
Luckily, we have wonderful staff and volunteers who are willing to drop everything at a moment's notice and pick up a bird for us.  One such volunteer is Chellye Porter, who along with her husband Jeff, are devoted Hawks Aloft supporters.  Chellye was called in for the pelican and owl rescue in Carlsbad.  Here is her story: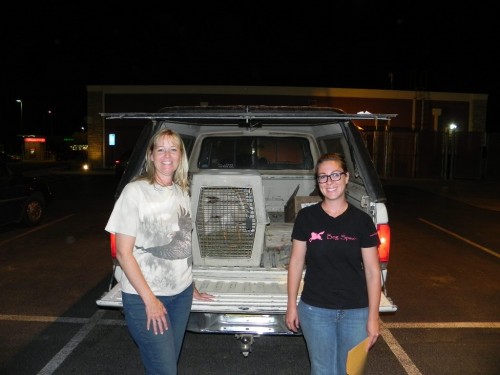 We got a call thya there was a baby Great Horned Owl and an American White Pelican that needed transport from Carlsbad to Santa Fe.   A short time later, I received a call from Brea Taylor of the Desert Willow Wildlife Rescue in Carlsbad, NM.  We made arrangements to meet in Roswell later that night.  So after work, Jeff and I drove to Roswell, meeting up with Brea in the Walmart parking lot for the exchange around 9 p.m.  We picked up the persnickety pelican that had a broken collar bone and needed surgery in Santa Fe.  He liked to poke at us through the holes in his cage.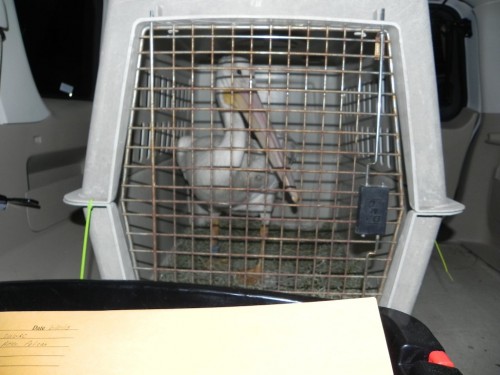 We also picked up a small box that contained the young owl. His nest had been built in an abandoned building and a construction company had unknowingly demolished it with the active nest inside. Unfortunately, his sibling did not survive.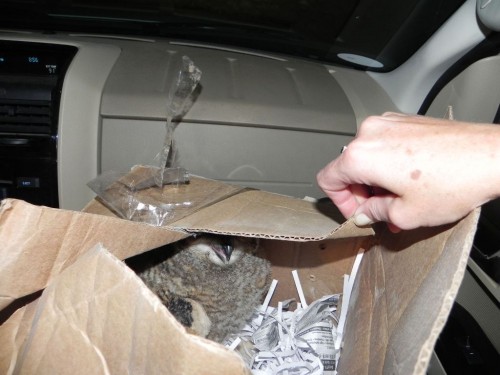 After saying our good-byes, we became concerned about the small size of the owl box, and the lack of airflow given the fact it was still 95 degrees at 9 p.m.   When we peeked into the box, the owlet was hunched over, not able to stand, and panting.  Gali, our Executive Director,  said we needed to get him out of the box so he could have better airflow. Jeff went into Walmart and bought a cat carrier.  We then had to open the box, grab the owlet, and transfer him into the cat carrier while in the small confines of  our vehicle.    It wasn't very pretty, but we got the job done.  The little owl seemed so much happier with a little more room and better airflow.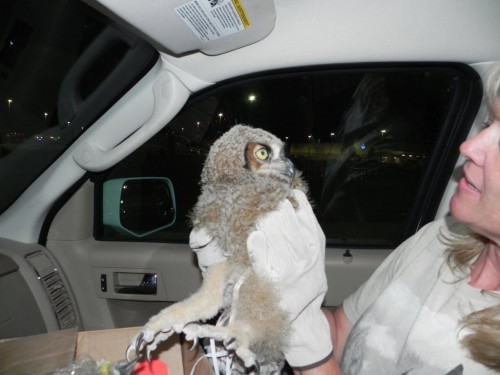 Both birds settled down and were quiet for the duration of the drive home.   Jeff was so awesome with this transport and so conscientious about the birds'  comfort.  He kept adjusting the air conditioner so they weren't too hot or too cold.  He kept the radio ever so quiet and kept shushing me if I made too much noise.  He was also very good about the pelican's possible lack of footing with his giant webbed feet so he would slow down and go slow around the corners so the pelican wouldn't fall over.   We arrived at home at 1 a.m. and the birds spent the rest of the night in our dark quiet garage.  The next morning. I handed the birds off to Lisa Morgan at the Hawks Aloft's Office.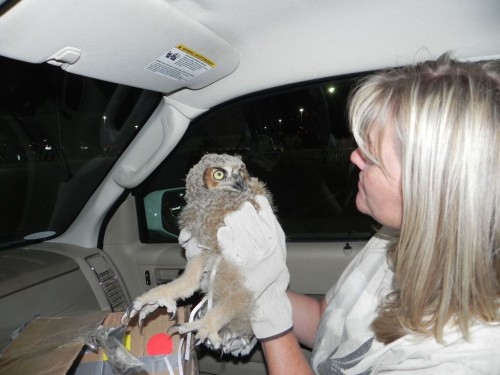 We extend a huge thank you to Chellye and Jeff for another successful bird rescue and transport.  Thanks to all our wonderful staff and volunteers who help in these endeavors.   It was a crazy week, but it's always worth the trouble in the end if we can rescue a bird.  We work with wildlife rehabilitators throughout the state, performing an avian ambulance service and doing our part to help save our avian friends who are in distress.