August 14th, 2012
One of the most popular features on our website is called Hawk Talk – Ask an Expert.   Our staff of scientists and educators answer questions about birds from people all over the world.  It is one of our favorite things to do.  Here's a recent question.

Dear Hawks Aloft,
I am hopeful you will be able to help me identify this bird.  I live in a rural Sierra Nevada Foothills area in Northern California at about 3000 foot elevation.  Last weekend I was doing some work out on our property when out of the corner of my eye I saw a large bird fly up into the trees from the ground. When I walked over to the area it flew from, I could see I had spooked it off a squirrel it was feeding on. Intrigued to see the bird up close, I retrieved my Go Pro sports camera and set it up close to the dead squirrel,  set it on time lapse (one photo every 5 seconds). In doing so I was able to capture the images you see below.  I am unsure as to what this bird is, Red Tailed Hawk? Golden Eagle? or other?  Can you help me identify it?
Thank you in advance!
Mark Winger
Grass Valley, CA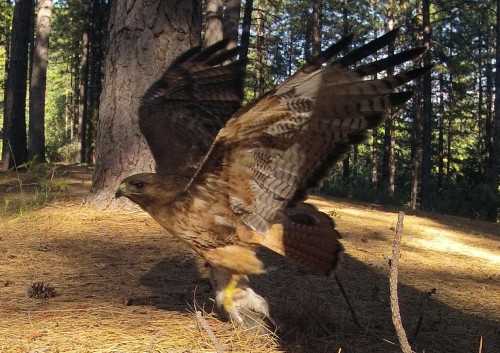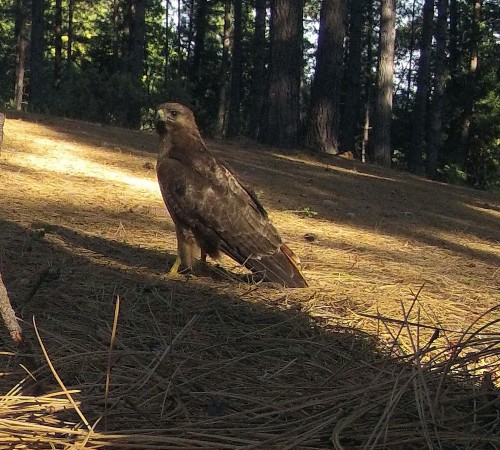 Hi Mark,
The bird is an adult Red-tailed Hawk.  The difficulty in your identification may have been caused by the relatively strong banding on the  tail.   However, you can still see the red that characterizes the adults of this species.  It is most likely the Calurus subspecies, or Western Red-tail.  They have darker plumage than some of the other subspecies.  Other diagnostic field marks include the dark patch on the leading edge of the wing, called a "patagial mark" and the dark head.  The second image shows light colored feathers on the back of the bird.  When viewed directly, these form a pale "V" shape, called a "scapular V".   Another diagnostic field mark for Red-tailed Hawk is a dark belly band.  However, this is highly variable among the many subspecies of Red-tailed Hawk, ranging from pronounced to almost non-existent.   Very nice images!  Thank you for sharing.   Might we have permission to use them on our website to help others identify mystery hawks that they encounter?  We would, of course, give you full credit.
Cheers,
Gail Garber
Executive Director