The inaugural event of the New Mexico Wildlife Rehabilitators' Alliance, improving rescue, transport, and rehabilitation of injured wildlife in the state of New Mexico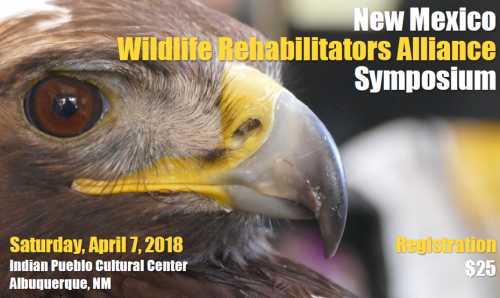 When: Saturday, April 7, 2018
Where: Indian Pueblo Cultural Center, Albuquerque, NM (2401 12th St. NW; Map it here)
Registration: $25 (Early bird registration; ends March 10),  $35 (After March 10)
Hotel booking: Holiday Inn Express and Suites Albuquerque Historic Old Town (2300 12th St. NW; Map it here) has offered rooms at a discounted rate ($110/night + tax & fees for up to 2 people; additional fee for 3-4 people) that are available through 15 March 2018. Cancellation and change fees apply after 15 March. Please call (505-842-5000) or reserve your room online using the code "Hawks Aloft 2018".
Please join us for a one-day symposium to be held in conjunction with courses offered by the International Wildlife Rehabilitation Council. For information about the basic wildlife rehabilitation and pain and wound management classes, please visit https://theiwrc.org/courses.
The one-day symposium will be the introductory meeting for the New Mexico Wildlife Rehabilitators' Alliance. The morning session will include extensive information about the energy sector's efforts to reduce impacts to wildlife through safer wind energy, electric utility, solar power, and more. Also included will be presentations about the 30 year eagle rule, laws, permitting, and other regulations. Participate in a round-table discussion about wildlife rescue in the state of New Mexico and hear a plethora of experts speak on rehabilitation, energy development, partnerships, and collaboration.
Meet and greet reception to follow the symposium. We hope to see you there!
Register for the symposium here.
Agenda
Session 1: Legislation and Permitting 
8:15 AM:  Welcome and Introductions
8:30 AM: Delivan Roper, US Fish and Wildlife Service – Laws and Birds
8:50 AM: Kristin Madden, US Fish and Wildlife Service – Updates on Migratory Bird Regulations and Major Threats in NM
9:10 AM: Katie Wade, US Fish and Wildlife Service – Permitting for Rehabilitation and Education
9:30 AM: Monique White/Samantha Ferguson, NM Department of Game and Fish – Rules Relative to Rehabilitation 
9:50-10:05 AM: Break 
Session 2: Energy Sector 
10:05 AM: Armando Najera, PNM Resources – Electricity 101
10:25 AM: Armando Najera, PNM Resources – Industry Efforts to Reduce Impacts to Wildlife
10:45 AM: Jerry Roppe, Avangrid Renewables – Wind Energy 101
11:05 AM: Jerry Roppe, Avangrid Renewables – Overview of Wind/Wildlife Interactions
11:25 AM: Energy Sector Question and Answer Session  
11:45 AM: BREAK FOR LUNCH – NEXT SESSION STARTS PROMPTLY AT 1:00 PM 
Session 3: Collaboration/Rehabilitation 1 
1:00 PM: Gail Garber, Hawks Aloft, Inc. – Introduction to NMWRA
1:20 PM: James Robinson – Land of Enchantment Wildlife Foundation
1:40 PM: Christine Fiorello, DVM – WRMD Overview
2:00 PM: Michael Melloy, DVM – Hoods and Tail Guards, Housing Innovations
2:20 PM:  Paul Domski, NM Falconers Association – Use of Falconry to Condition Birds for Release
2:40-2:55 PM: Break 
Session 4: Rehabilitation 2 
2:55 PM: Denise Coil, Wildlife Rescue of NM – So, You Want to Be a Rehabilitator
3:15 PM: Kathleen Ramsay, DVM – Basic Medical Exams
3:35 PM: Samantha Uhrig, DVM – Rehabilitation of Waterfowl Recovered from Brine Lakes
3:55 PM: Kathleen Ramsay, DVM – Repairs of the Upper and Lower Mandibles
4:15 PM: Sammie Uhrig, DVM – Hatching and Nestling Care Techniques for Least Terns 
4:35 PM: Question and Answer Session 
4:50 PM: Enjoy conversation, light food, and beverages upstairs in the main IPCC building