Members of Hawks Aloft can participate in special birding events.
Members at the Red-Tail Membership level ($150) or higher receive invitations to exclusive birding field trips.  Consider joining Hawks Aloft at a higher level and join us for such very special events. Become a member today.
Check out our brand new 2020 tour in partnership with Holbrook Travel. 
Visit Brazil:  the Pantanal and Amazon Rain Forest!
November 2020. 
Scroll down for details!
---
ARMENDARIS BAT CAVES, July 27-28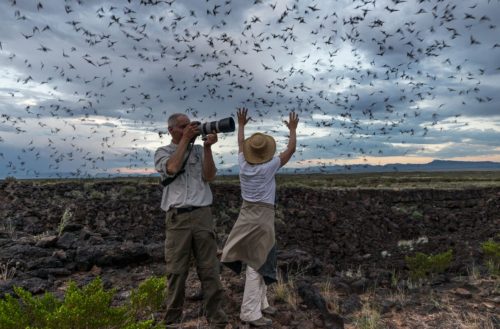 We are thrilled that we can again offer our most popular field trip — to the Bat Caves of the Armendaris Ranch, in conjunction with Ted Turner Expeditions. Join us for an incredible outing as we visit New Mexico's largest colony of Mexican free-tail bats, and 4th largest in the country. Up to several million bats emerge from collapsed lava tube caves in the Jornada del Muerto Volcanic Field, while Swainson's Hawk descend from the skies above to hunt them. We watch the extravaganza from our perch on the rim of the cave opening.
The sights and sounds are unforgettable, as are the photographic opportunities.We will carpool down or meet in T or C, NM, and then drive to the ranch headquarters in Engle. There, we will consolidate into as few 4WD vehicles as possible and head out to the bat caves, stopping to watch wildlife along the way, arriving late afternoon on Saturday. There will be time to set up your tent and get settled before we enjoy a gourmet dinner prepared by chef Taffy Glen of the Sierra Grande Lodge. David Barfield, Activities Director of Ted Turner Expeditions, will be on hand to regale us with information about the bat caves and other wildlife, as we settle in to watch the nightly show!
Prepare to be amazed! Gail Garber, director of Hawks Aloft says: " This is the best wildlife experience I've ever had, a once in a lifetime event!" (even though she's lead this trip many times). Breakfast burritos will be cooked the next morning, allowing you to marvel at the very different flight styles employed by the bats as they return to their day roost. Be sure to bring a comfortable camp chair, so we can sit in the darkening night to watch bats flying all around us, and see the Milky Way come to light! It is indeed, a once-in a lifetime trip, and we don't know if we will be able to offer it again.
---

DISCOVER THE DARIEN AND CANAL ZONE OF PANAMA
WITH HAWKS ALOFT & THE CANOPY FAMILY!
November 9-18, 2019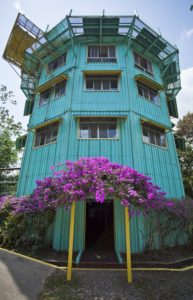 Hawks Aloft, Inc. is based in Albuquerque, NM, and works to conserve indigenous wild birds and their habitats through avian research, conservation education, raptor rescue, and cooperation with others. Hawks Aloft has offered trips to Ecuador, Peru, Guatemala, and other international destinations at least once a year to experience diverse wildlife and new cultures. Join Hawks Aloft and the Canopy Family on the trip of a lifetime!Panama is a biologically and culturally diverse country connecting North and South America. It is a haven for wildlife watchers of all kinds, especially birders. The Canopy Family has operated ecotourism lodges in Panama since 1999. Their mission is "to share the nature, history and culture of the Republic of Panamá with passion and enthusiasm, focused on customer satisfaction and guided by the principles of conservation and social responsibility."
Trip Highlights
Look for Harpy Eagles!
Visit the Darién region of Panama, a vast area of the eastern part of the country with no roads and diverse wildlife. Stay at the Canopy Family's Canopy Camp.
Explore local culture, including a native Embera village.
Relax and enjoy rainforest-level views from the famous Canopy Tower.
Click Here for the detailed Itinerary.
Click Here for more details and registration information.
Trip price: $3200 total (assuming double-occupancy). $600 deposit required to reserve your spot.
Register here!
---
BRAZIL:  Wildlife of the Pantanal and Amazon Rainforest
With Hawks Aloft & Holbrook Travel
November 5 – 14, 2020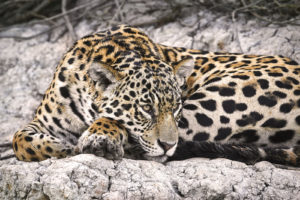 Located in west-central Brazil, the Pantanal is the world's largest freshwater wetland and one of the most biodiverse, productive habitats in the Western Hemisphere.  It harbors a world-record 82 species or large birds including Hyacinth Macaw, Jabiru, Toco Toucan, Greater Rhea, Scarlet Macaw as well as coatimundi, tapirs, and giant river otters.  Perhaps, however; no other animal is as beautiful and dramatic as the jaguar.  Embark on this exception adventure providing opportunities for close range observation of abundant wildlife and the majestic jaguar.
We will spend our final days of the trip in the heart of the Brazilian Amazon, immersed in the dense tropical forest that is home to the highest concentration of birds species, with over 1500 described species of rainforest birds.  It is home to the Harpy Eagle, Bare-faced Currasow, King Vulture, Hoatzin, Plum-throated Cotinga, Spectacled Owl and much more.  The Amazon is also home to about 430 species of mammal, with more still to be discovered. Among the monkey species that could be seen are: Howler, Spider, Capuchin, Tamarin, Squirrel, Woolly, Uakari, Titi, Marmosets, and Night Monkeys, also called owl monkeys.  Of course, aquatic life abounds in this habitat as well as the Pantanal.
Trip Highlights
Embark on several boat rides in search of the jaguars that roam freely in the Pantanal
Venture on outdoor activities to seek out tapids, ocelots, monkeys, Hyacinth Macaws, and mixed species flocks
Watch for birds and mammals from the Pantanal's only mobile canopy towers, strategically located near fruiting trees
Listen to experts to learn more about the biology and conservation of the jaguar and the giant otter
Journey to the Amazon to observe the wildlife of one of the most biodiverse ecosystems on the planet
Click Here for complete details, itinerary, and payment
Only 9 spots remain.