Members of Hawks Aloft can participate in special birding events.
Members at the Red-Tail Membership level ($150) or higher receive invitations to exclusive birding field trips.  Consider joining Hawks Aloft at a higher level and join us for such very special events. Become a member today.
---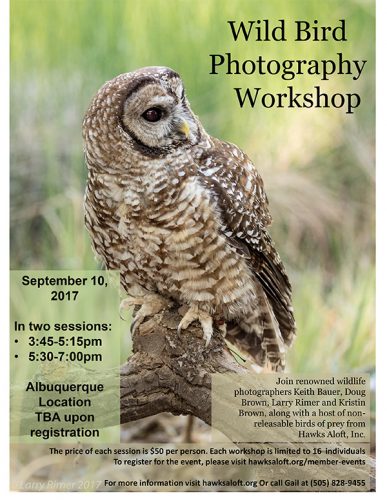 Hawks Aloft is excited to host another Wild Bird Photography Workshop guided by impressive photographers and featuring a crew of our Avian Ambassadors. Come hone your skills in one of two sessions, or spend the day with us by enrolling in both.
Securing your spot is easy and secure online!
---
Amazon Adventure
with
Hawks Aloft

and
Wildside Nature Tours
February 3 – 11, 2018
Birding, photography, fun and relaxation, all from our 165 foot deluxe riverboat! A host of leaders for your trip will include Kevin Loughlin, bird photographer and owner of Wildside; Edison Buenano, South America's top birding guide; Gail Garber, Director of Hawks Aloft,plus two local naturalist guides.
Our cruise will include afternoon lectures on birds, wildlife and photography. We enjoy multiple excursions by motorized skiff each
day, designed to reveal the incredible wildlife that calls the rain forest home and with any luck we'll spot sloths, monkeys, toucans, macaws, pink dolphins and so much more!
The cuisine on-board is regional and provides a unique and delicious window into local culture. Gain a rare glimpse of how life 'on the river' is lived and experience the magic of the Amazon on this once-in-a-lifetime riverboat adventure.
Focus and Highlights:
The Peruvian Amazon offers fantastic birds, monkeys, sloths, frogs and other great wildlife. We will explore rivers, creeks and forest trails in search of all we can find! On board the ship we will offer daily lectures on birds, wildlife, photography, art and the local culture.