Internships
We offer a very limited number of internships.  These are intended to benefit both Hawks Aloft and the intern.   Internships will introduce the accepted individual to all aspects of Hawks Aloft, from avian biology and field studies, to our itinerant education and outreach programs.   Other duties will be assigned that will include assistance with data entry, office work, publications, cage cleaning, and other things that come up.  Internships should be considered equal to all entry level paid positions and must include a minimum of 20 hours per week for a duration of at least one month with duties assigned by Hawks Aloft staff biologists, the office manager and the education coordinator.  Field internships are generally only offered in the months of May – August.  Educational internships are only offered September – May. We do not offer any paid internships, but do reimburse mileage for required travel.
If you would like to apply for an internship with Hawks Aloft, please send a cover letter that details your experience to date and your preferred area of study as well as how Hawks Aloft will benefit for your participation in our organization.  Please also send a resume and two references to officemanager AT Hawksaloft.org
---
We do have several available volunteer positions.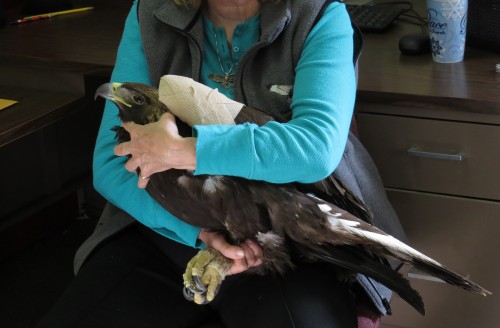 Seeking Raptor Rescue Volunteers.  Do you have a soft spot in your heart for these magnificent birds of prey?  Have you wondered how they are found and how they get to qualified rehabilitation centers?  One of the most satisfying feelings is knowing that you helped to save a bird that otherwise would have perished.  We can use you!  Help with hands-on raptor rescues and also dispatcher for rescue calls.  Our hotline is staffed 7 days per week.   In addition to dispatch, we seek volunteers to rescue injured, ill, and orphaned raptors, corvids and roadrunners throughout the state, provide transport to wildlife rehabilitators and veterinarians.   We also occasionally run transport birds between locations within the state to ensure the best possible care.  Training is provided.  Contact Katrina for more information.
Become a Volunteer!
Hawks Aloft is always looking for people willing to join our dedicated team of volunteers. You can help us in a variety of ways, including:
raptor rescues in New Mexico
assisting with educational programs
helping us care for our live, non-releasable raptors
helping at outreach booths
donating special skills, such as photography or computer expertise
distributing newsletters
conducting avian field work throughout New Mexico
Contact us to find out more.