Education and Outreach Coordinator
Hawks Aloft, Inc. (http://hawksaloft.org), a New Mexico non-profit, based in Albuquerque, seeks a unique individual to join our conservation education team. We seek an individual that is multi-faceted and interested in participating in all aspects of Hawks Aloft. This is a full-time permanent position that includes benefits and a competitive salary depending on experience.
The centerpiece of our education program is "Living with the Landscape," a comprehensive school-year-long program that serves every student and teacher in participating low-income schools in the Albuquerque metropolitan area and surrounding communities. The program includes multiple classroom presentations with age appropriate curriculum that focuses on conservation issues, such as watersheds, habitat fragmentation, fire ecology, and more. Each classroom presentation features two non-releasable raptors to illustrate the concepts of that class. The program reaches its apex in the fourth and fifth grades when students participate in fields trips to natural areas such as Valle de Oro National Wildlife Refuge, and the Elena Gallegos area in the foothills of the Sandia Mountains. Fifth grade students implement a conservation project at the beginning of the school year and maintain it throughout the school year. All students, teachers, parents, and siblings benefit from a 'family night' near the end of the school year where students can share their knowledge of the educational raptors and activities they experienced throughout the year with their families, benefiting the local community. This program is entirely grant funded and free to participating schools. 
We also offer a wide variety of age-appropriate single visit programs that are conservation and science-based with an emphasis on raptor biology. We conduct corporate and adult education programs and public outreach booths. Hawks Aloft is active in the conservation community in New Mexico and has a solid history of working in collaborative endeavors, including coordinating regional science conferences.
Education & Outreach Coordinator Position Summary:
Primary Duties:
Conduct conservation education programs at K-12 schools across New Mexico (mostly in the Albuquerque metro area)

Ongoing development of new curriculum with a focus on live birds of prey and relevant ecological concepts

Manage and staff public outreach booths as needed, usually about twice monthly

Recruit, coordinate, and maintain positive relationships with volunteers

Assist in the care of our 30 non-releasable raptors
Required Qualifications:
Bachelor's in education, biology, or related field

Demonstrated classroom teaching experience with experiential learning

Raptor handling experience a plus

Availability to work non-traditional hours (evenings and weekends)

Valid driver's license and insured vehicle

Strong time management & organization skills

Detail-oriented

Ability to work well in a small, team-oriented organization

Proven experience managing and coordinating volunteers
Preferred Qualifications:
Master's in education, biology, or related field experience

Excellent writing abilities

Experience with social media, i.e. Facebook, Instagram

Experience with WordPress (html) website maintenance

Experience with Photoshop, PowerPoint, and Excel

Experience with low-income schools/students

Experience teaching a broad range of age groups
This is a permanent, full-time position with benefits. Start date is mid-July – early August. This is a full-time, permanent position that requires a minimum of 40 hours per week with some weekends and evenings. Annual salary range is $27 – $30K plus benefits.
NO PHONE CALLS, NO PERSONAL VISITS!
To apply, send a cover letter with dates of availability, resume, and at least three references to:
gail@hawksaloft.org
OR
Hawks Aloft, Inc.
Attn: Gail Garber, Executive Director
PO Box 10028
Albuquerque, NM 87184
We have several available volunteer positions at this time.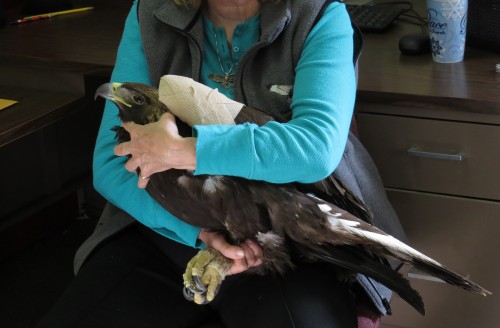 Seeking Raptor Rescue Volunteers.  Do you have a soft spot in your heart for these magnificent birds of prey?  Have you wondered how they are found and how they get to qualified rehabilitation centers?  One of the most satisfying feelings is knowing that you helped to save a bird that otherwise would have perished.  We can use you!  Help with hands-on raptor rescues and also dispatcher for rescue calls.  Our hotline is staffed 7 days per week.   In addition to dispatch, we seek volunteers to rescue injured, ill, and orphaned raptors, corvids and roadrunners throughout the state, provide transport to wildlife rehabilitators and veterinarians.   We also occasionally run transport birds between locations within the state to ensure the best possible care.  Training is provided.  Contact Lisa for more information.
Become a Volunteer!
Hawks Aloft is always looking for people willing to join our dedicated team of volunteers. You can help us in a variety of ways, including:
raptor rescues in New Mexico
assisting with educational programs
helping us care for our live, non-releasable raptors
helping at outreach booths
donating special skills, such as photography or computer expertise
distributing newsletters
conducting avian field work throughout New Mexico
Contact us to find out more.