Songbird Field Technician
May 15-July 15 (start date flexible).  Hawks Aloft, Inc., a New Mexico non-profit organization, seeks an enthusiastic field assistant for studies measuring avian abundance and species richness relative to different land management strategies and habitat types in riparian woodland, coniferous forest, and pinyon/juniper woodland in New Mexico. Position will be filled as soon as a suitable applicant is found. Surveys will include transect surveys and point counts in the Middle Rio Grande bosque (riparian woodland), Santa Fe National Forest (coniferous forest), and other locations in northern and central New Mexico (pinyon/juniper woodland).
We invite enthusiastic applicants with a demonstrated ability to work independently in remote areas with minimal supervision; demonstrated experience identifying western birds by sight and sound; and previous field experience with birds and other wildlife. BS/BA in a biologically related field or work towards a college degree in biological sciences is preferred.  Position based in Albuquerque, New Mexico, but will require some overnight travel and camping, as well as high elevation point counts in the Jemez Mountains and the Rio Grande Gorge. All surveys begin within 30 minutes of sunrise and must be completed within 4 hours.  Must be willing to use your own vehicle (mileage reimbursed). Attention to detail and good time management skills are also helpful. Generally Monday-Saturday with variable hours. Monthly stipend $750 with housing provided.
Please e-mail a cover letter including dates of availability, resume, and at least three references to: (EM: gail AT hawksaloft.org); Attn: Gail Garber, Executive Director, Hawks Aloft, Inc., PO Box 10028, Albuquerque, NM  87184.
We have several available volunteer positions at this time.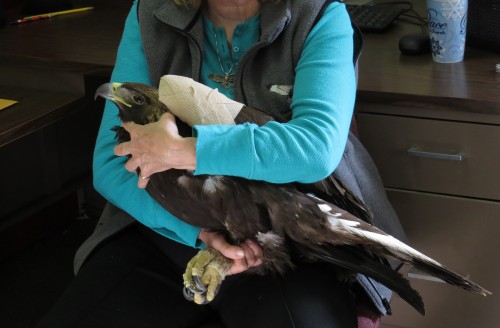 Seeking Raptor Rescue Volunteers.  Do you have a soft spot in your heart for these magnificent birds of prey?  Have you wondered how they are found and how they get to qualified rehabilitation centers?  One of the most satisfying feelings is knowing that you helped to save a bird that otherwise would have perished.  We can use you!  Help with hands-on raptor rescues and also dispatcher for rescue calls.  Our hotline is staffed 7 days per week.   In addition to dispatch, we seek volunteers to rescue injured, ill, and orphaned raptors, corvids and roadrunners throughout the state, provide transport to wildlife rehabilitators and veterinarians.   We also occasionally run transport birds between locations within the state to ensure the best possible care.  Training is provided.  Contact Lisa for more information.
Become a Volunteer!
Hawks Aloft is always looking for people willing to join our dedicated team of volunteers. You can help us in a variety of ways, including:
raptor rescues in New Mexico
assisting with educational programs
helping us care for our live, non-releasable raptors
helping at outreach booths
donating special skills, such as photography or computer expertise
distributing newsletters
conducting avian field work throughout New Mexico
Contact us to find out more.