We have no paid positions available at this time.
We have several available volunteer positions at this time.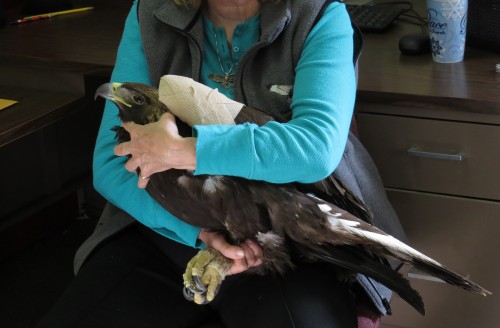 Seeking Raptor Rescue Volunteers.  Do you have a soft spot in your heart for these magnificent birds of prey?  Have you wondered how they are found and how they get to qualified rehabilitation centers?  One of the most satisfying feelings is knowing that you helped to save a bird that otherwise would have perished.  We can use you!  Help with hands-on raptor rescues and also dispatcher for rescue calls.  Our hotline is staffed 7 days per week.   In addition to dispatch, we seek volunteers to rescue injured, ill, and orphaned raptors, corvids and roadrunners throughout the state, provide transport to wildlife rehabilitators and veterinarians.   We also occasionally run transport birds between locations within the state to ensure the best possible care.  Training is provided.  Contact Lisa for more information.
Become a Volunteer!
Hawks Aloft is always looking for people willing to join our dedicated team of volunteers. You can help us in a variety of ways, including:
raptor rescues in New Mexico
assisting with educational programs
helping us care for our live, non-releasable raptors
helping at outreach booths
donating special skills, such as photography or computer expertise
distributing newsletters
conducting avian field work throughout New Mexico
Contact us to find out more.