Puzzles
Complete this puzzle to learn who our female Great-Horned Owl was living with one spring.
  Have you ever seen a Swainson's Hawk chick? Complete the puzzle to see how cute they are!
Try this puzzle of our Western-Screech Owl, Dawn.
Try this puzzle of out Great Horned Owl, Aztec.
More Games & Activities Coming Soon!
---
Order Please!
Put the following pictures in order to create a comic strip about the Peregrine Falcon and its struggle with DDT.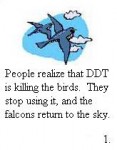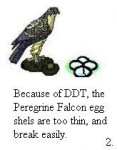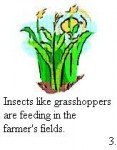 Once you think you have the correct order, click here to see if you got it right!
---
Word Find!
Find all the words listed in the following word search:
Bugs
Eggs
Falcon
DDT
Chemical
Peregrine
Plants
Poison
Speed
Stoop
Birds
Crops
Nest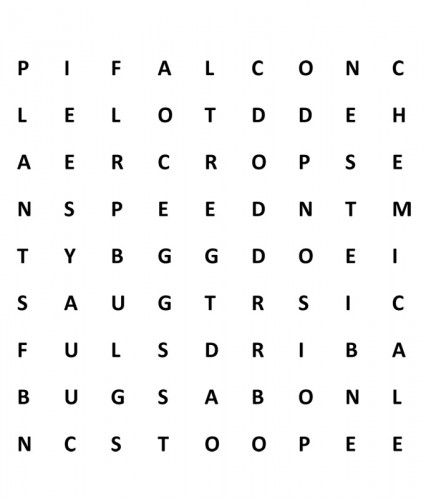 ---
Word Scramble!
Unscramble the letters to find the answer to each question.
1. A peregrine is what type of bird? (lnofac) ______
2. DDT is a type of _________. (csdtepiie)
3. When a Peregrine Falcon dives, it is called a _____. (optso)
4. _________ in the air can make plants, animals, and people sick. (tuliplono)
5. Peregrine Falcons live on tall cliffs or _________. (iigbdslun)
6. Because of pesticides, Peregrine Falcons became __________. (dnegareend)
7. The Peregrine Fund ________ captive bred Peregrine Falcons. (eaeserld)
8. The female Peregrine Falcon at Hawks Aloft is now used for _________. (dictnoaue)
9. Peregrine Falcons are ___________ when it comes to eating. (scsasepilit)
10. Peregrine Falcons eat primarily _____. (dbsri)
---
Click here for answers!