April 19th, 2013
Even though she's 24 years old now, our Hudder Budder continues the nesting cycle she's completed every year since she arrived.  She begins by building a nest of her own.  She does not like the ones that we build for her and tends to tear them down.  Instead, we provide her with an endless supply of tender shoots from trees and shrubs and she sets about building.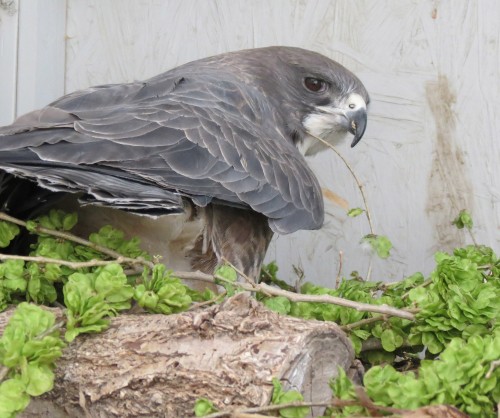 During this time she also becomes quite territorial and it is only now that we experience her 'square head', warning us to stay away.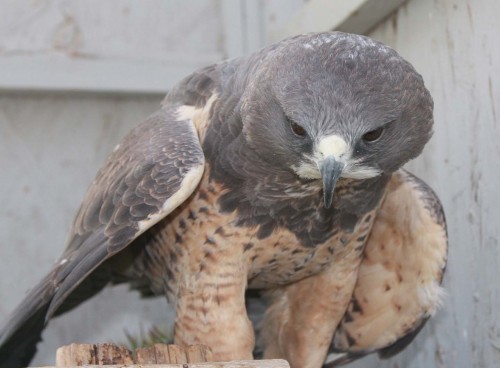 She just lives for babies and she KNOWS that this year's eggs will produce! Sadly, without a mate – which she will not tolerate — her own eggs will never hatch.  However, she is positively the best foster mom anywhere and will raise any species of buteo chicks.  Many years, but not always, some formerly unlucky orphan arrives and she immediately takes them under her wing.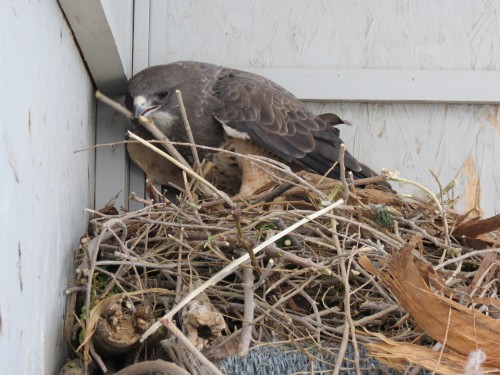 Here's her 2013 masterpiece.  It's a big one, nice and softly cushioned with greenery.  As I write this, she has laid her first egg of 2013.  Only time will tell if a chick will come along to fulfill her needs.  Stay tuned!