April 30th, 2012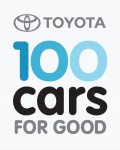 Help us win a new car to make an even bigger difference!
Hawks Aloft is proud to announce we've been selected as a finalist in Toyota's 100 Cars for Good Program. Now we need your support!
Tell your friends and vote for Hawks Aloft at www.100carsforgood.com on July 28.
Toyota's 100 Cars for Good program will be awarding 100 vehicles to 100 nonprofits over the course of 100 days based on votes from the public. A total of 500 nonprofits were selected from more than 4,000 applications nationwide. We are hoping to win a new Highlander to help purchase an Avian Ambulance to transport injured raptors and other birds throughout New Mexico, transport educational birds to school programs, and transport avian biologists into the field for research.